Product Name: Fiber Optic Distribution Box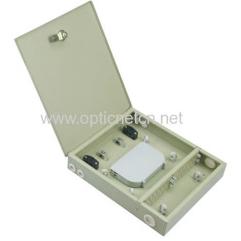 Description
GPX-ZF serial Fiber Optic Distribution Box is used for splicing and distributing fiber optic and it also protects fiber optic splices. The distribution box is an indoor type, suitable for wall-mounting or desktop application, which is mainly used in telecommunication equipment room and network equipment room.

Features
1. The housing of GPX-ZF distribution box is made of high quality metal. The material has excellent mechanical strength.It is of nice shape and appearance with electro-static spray painting.
2. It is equipped with adaptor panel, suitable for FC or SC adapters, therefore it is easy to install, inspect and test.
3. The adaptor panel makes it easy to install, inspect and test. It contains splicing and distribution area.
4. Book style tray design makes it easy for installation and maintenance. The curved diameter meets with international standard.

Ordering Guidance

Model No.

Dimension(mm)
(HxWxD)
Max.Capacity
(fiber count)
Max.No.of Adapters
(FC, SC, LC or ST)

No.of Ports

GPX-ZF

345x286x56

24

24

4

GPX-ZF

345x286x110

48

48

4
Accessories provided with the distribution box: heat shrinkable protective sleeve, nylon tie, labeling paper, Insulation tape; Accessories to be ordered in addition: adapter, pigtail, patchcord.