GPX-R02
The enclosure for outdoor wiring is designed for locating of telecommunication equipment, distributing frame, power supply system with accumulator battery, equipment for maintaining temperature conditions inside the enclosure and line-operated power supply service. The enclosure should provide the possibility of built-in equipment functioning in any weather conditions, set by ETS standards. Construction of the enclosure should be made of mounting on concrete base in a place opened from all sides or backside to the wall.
Outdoor cabinets are used to house telecom equipment and protect them from hazardous environmental conditions (e.g. U.V radiation, rain, dust, humidity, corrosion, etc). Their mechanical structure is robust and stable. All control and movable parts (thermostats, heaters, hinges, fans, etc) maintain operational integrity even under maximum load.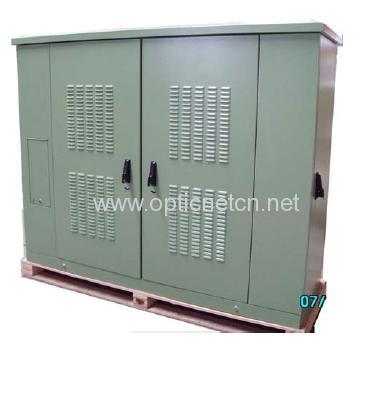 Standard19' mounting frame
Material: 2.0mm galvanized steel
Size: 1550x1900x650mm (HxWxD)
IP grade: IP 55
Cooling system: heat exchange 100W/k * 2 pcs
1800 pairs MDF compartment
One power compartment
Power inlet socket connection
Resistant to corrosion and rusting
Little or no maintenance required
Highly durable
Anti-Vandalism design
Provides long-term protection
No grounding enquired for cabinets
Lasts for the lifetime of the cabinet
Keeps heat and cools longer
Causes little or no condensation
High modularity facilitates replacement of defective part due to impact.
Absorbs most of the impact (does not fold inward
Cabinet is customized