GPX29B Optical Distribution Frame (ODF)
Brief introduction:
GPX29B ODF, open or close design, acts as interface, in fixed or mobile networks, between the exchange and the transmission equipment. GPX29B consists of ONT-116 Splice & Distribution Case (SDC, 72F), the mounting frame or cabinet and all the necessary accessories for ODF.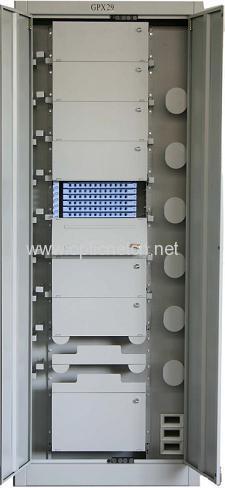 Features:
> Adopting the popular 19" cabinet.
> 72F Splice & Distribution Case (SDC), combing splice and distribution into one unit.
> Stable equipments for fixing, stripping and grounding of the optical fibers.
> Suitable for ribbon and bunchy optical fibers.
> Suitable for installation of FC, SC and ST adaptors.
> Optical fibers, fiber optic pigtails and patch cords are separate, without disturbing each other.
General specification:
Model

Dimensions

(H×W×D) (mm)

Max. Capacity (F)

GPX29B-26

2600×850×300

720

GPX29B-22

2200×850×300

576

GPX29B-20

2000×850×300

504

GPX29K-22

2200×300×300

72/96

ONT-116-4

115×335×200

48

ONT-116-6

176×430×250

72
Besides, Due to its modular design, capacity can be tailored at the customers' requirements.
Technical specification:
> Connectors loss≤0.5dB
> Return loss: FC/PC ≥ 40 dB, FC/UPC≥ 50 dB, FC/APC ≥ 60 dB
> Connector life span ≥ 1000 times
> Insulation resistance ≥ 1000MΩ/500V (DC)
> Dielectric strength ≥3000V (DC) /1min, no spark-over and no flying arc.