Description
Termination box is suitable for jointing fiber cable and pigtail ,and it protects fiber optic splices and help to distribute.
The termination box is either a wall-mounting type or a desktop type , which is mainly used in telecommunication equipment room and network equipment room.
Features
> Light weight , small size ,easy installation.
> Provide splice protection of fiber cable and pigtail.
> Made of engineering plastic material, which has mechanical strength, therefore it is reliable and long lasting .
> Slide-in-lock fiber optic splice tray with its opening angle above 90 ºC. Therefore it is easy for installation and maintenance.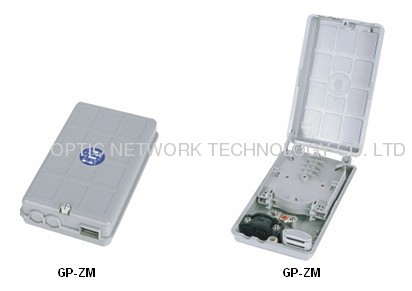 Ordering Guidance
Model No.

No. of Entry

/ Exit Ports

Max. No of

Splice Tray

Max Fiber

Counter

Max. No

of Pigtail

Max No.

of Adapter

Dimension

(Lx W x H) mm




GP-ZM




2

2

12

12

/

198x112x45
Accessories
Accessories provided with termination box: insulation tape. nylon tie. numbering paper. fixer .
Accessories to be ordered in addition : adapter, pigtail, patch cord.