Description
Termination box is suitable for jointing fiber cable and pigtail ,and it protects fiber optic splices and help to distribute.
The termination box is either a wall-mounting type or a desktop type, which is mainly used in telecommunication equipment room and network equipment room.

Features
Light weight, small size, easy installation provide splice protection of fiber cable and pigtail. Made of engineering plastic material, which has mechanical strength, therefore it is reliable and long lasting. Layered turn-cover structure, equipped with special inside device to stop the tray from moving forth and back Reserve the redundant fiber on the cabling rack outside the tray to ensure fiber well-regulated.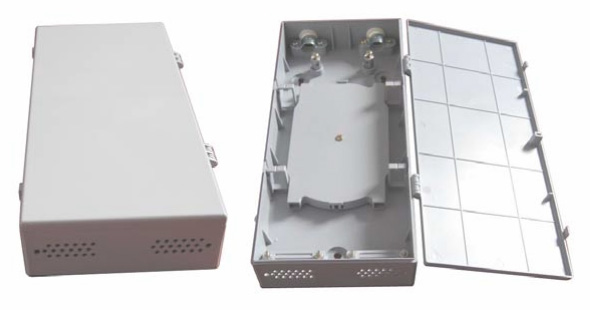 GP-ZA I with Pigtail Output
Ordering Guidance
Model No.

No of Entry

/ Exit Ports

Max. No of

Splice Tray

Max Fiber

Counter

Max. No

of Pigtail

Max No. of Adapter

Dimension

(Lx W x H) mm




GP-ZA I




2

2

32

36

/

320x145x50




GP-ZA II




2

1

32

/

8 (SC or duplex LC)

320x145x50
Accessories
Accessories provided with termination box: insulation tape. nylon tie. numbering paper. fixer.
Accessories to be ordered in addition: adapter, pigtail, patch cord.