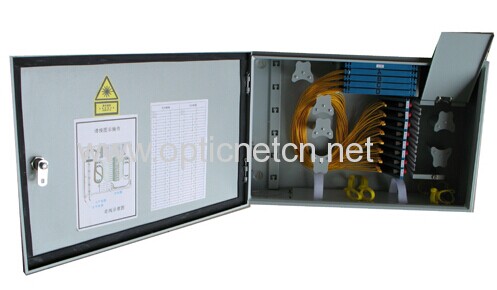 GPX-ZK splitter distribution box integrates the function of optical distribution and splitting, which enables the distribution connection between cables and fiber optic communication equipment, suitable for fiber termination point of fiber optic access network, as well as the splitting after fiber to the building in the FTTH network.
The indoor cable splices with the outgoing drop cables or pigtails, then terminates with adapters, and introduces optical signal by patch cord, which finishes cable straight-through or distribution connection. It also can splice indoor cable directly with the input of the cassette splitter, so as to realize splitting by the signal of the cassette splitter.
Specification:
• It's made of qualified cold rolled steel,with the surface processed by degreasing, deacidification, phosphating,and electrostatic spraying.
• Outdoor waterproof lock, wall mounted cabinet.
• Special sliding structure design for the splice tray, suitable for normal indoor cable or drop cable.
• The inner structure is well located, with clear divided space for splitting,distribution,cable storage and splicing, independent area for incoming cables and outgoing cables, complying to the cable radius requirement for the patching.
• The cable comes from the bottom. Waterproof and dustproof cabinet, well protected by the sealing rubber.
• Click-on adapter plate, max capacity: 6 ports, ABS material, unique design convenient for installation and maintenance.
Type

ZK-24/48

ZK-72/96

ZK-120/144

Size(H×W×D)

530×350×150

580×600×150

580×840×150

Cable Ports

5 ports

6 ports

6 ports

Max. QTY of Splice Tray

5

9

13

Max. Capacity of Splice

48

96

144




Max. Splitting Port


1:32 (1 pcs)

1:16 (2 pcs)




1:64 (1pcs)

1:32 (2pcs)

1:16 (4pcs)

1:128 (1pcs)

1:64 (2pcs)

1:32 (4pcs)

1:16 (8pcs)