Product Name:Termination Box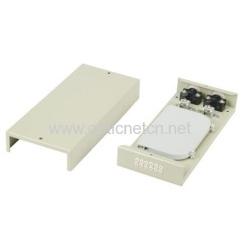 Description
GP-ZB Termination box is suitable for jointing fiber cable and pigtail,and it protects fiber optic splices and helps to distribute. The termination box is either a wall-Mounting type or a desktop type, which is mainly used in telecommunication equipment room and network equipment room.

Features
> Light weight, small size, easy installation.
> Provide splice protection of fiber cable and pigtail.
> Made of metal quality, with static-spray surface.it is of nice shape.
> Slide-iN-lock splice tray, therefore easy installation.

Ordering Guidance
Model No.

No of Entry / Exit Ports

No. of Splice Tray

MAX. Fiber

Count

MAX.No. of Pitail

Dimension

(LxWxH)

GP-ZB I

1

1 tray with each tray 6 fibers

6

6

210x110x50

2 trays with each tray 6 fibers

12

12

210x110x50

GP-ZB II

2

1 tray with each tray 12 fibers

12

12

282x130x43

GP-ZB III

2

2 trays with each tray 12 fibers

24

24

300x136x43
Accessories provided with termination box: insulation tape, nylon tie,numbering paper, fixer;
Accessories to be ordered in addition: pigtail, patchcord.